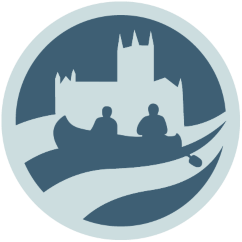 Book now: 01432 264 807

Glasbury to Hay-on-Wye
Glasbury to Hay-on-Wye is the most well-used section of the River Wye. The distance between the two locations is approximately 5.5 miles.
Glasbury
The launching point at Glasbury is on the beach area just above the bridge. There used to be a 50p per canoe fee payable to the post office. This is no longer payable since the Riverside restaurant took over the old shop. It is a really nice venue which is definitely worth a visit! Owners Charlie and Jane are really nice people and create a very warm friendly atmosphere. There is a great outdoor area and the food is good too.
Hay-on-Wye
Hay on Wye is a very popular tourist town due to its book and antique shops and in recent years the Hay Festival of literature. It has a wealth of attractions and is a great place to wander around. It is home to great cafes and restaurants and the Shepherd's Ice Cream Parlour.
Canoeing and Kayaking between Glasbury and Hay-on-Wye
Distance: 5.5 miles Time: 2 hours in a canoe or kayak
Facilities in these locations
Hereford to Hoarwithy
Hereford to Holme Lacy Bridge
Hoarwithy to Ross-on-Wye
Ross-on-Wye to Welsh Bicknor
Welsh Bicknor to Huntsmans Bridge
Monmouth to Chepstow
© 2020 Left Bank Canoe Hire
Leftbank Canoe Hire is a trading name of The Ultimate Consortium Ltd